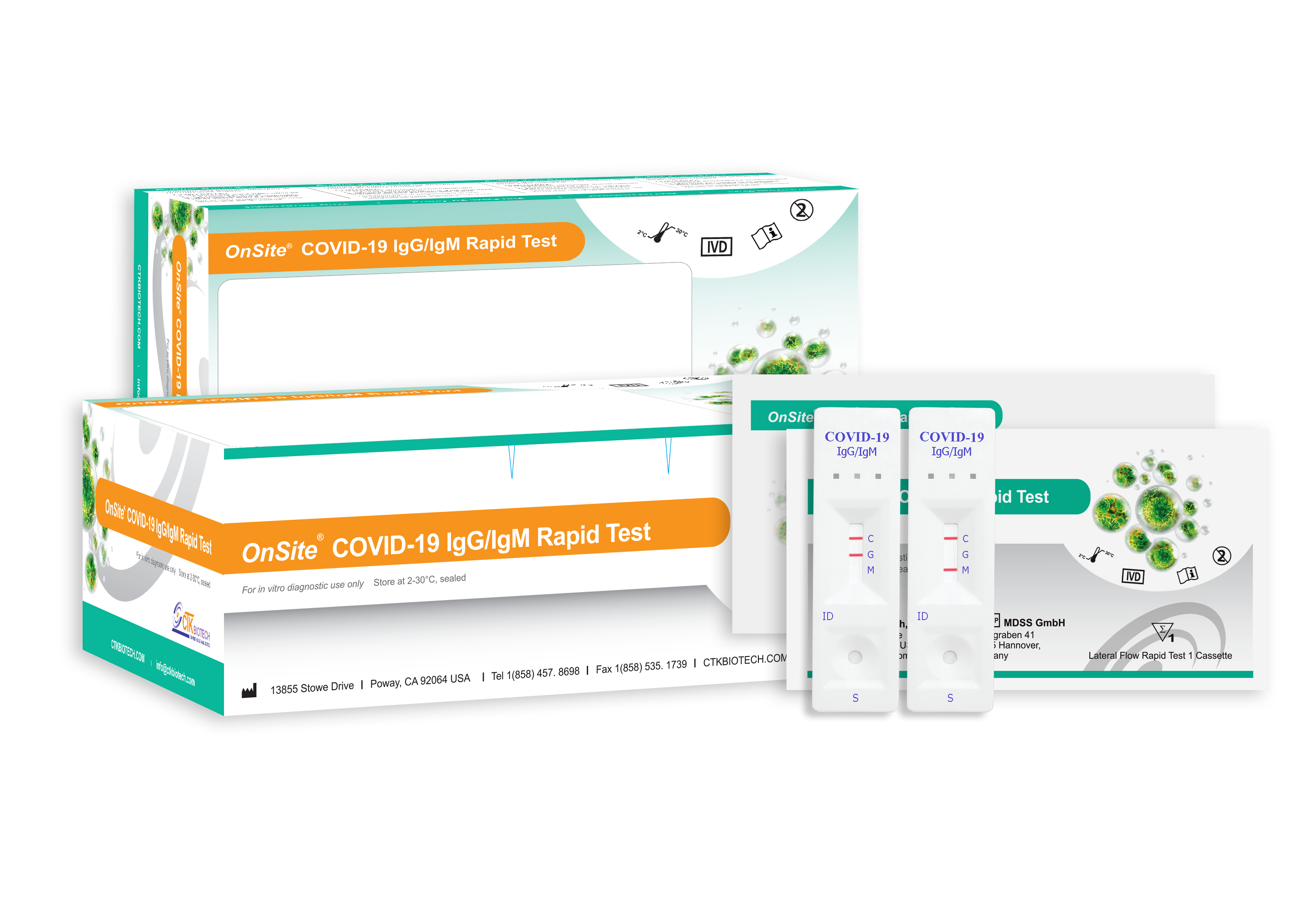 COVID-19 Rapid Antibody Test Kit CE
€150.00 incl. tax*
The OnSite COVID-19 IgG/IgM Rapid Test is designed to detect anti-SARS-CoV-2 IgG and IgM antibodies in either human serum, plasma or whole blood within 15 minutes.
30 tests per kit
This test is easy-to-use, with basic equipment needs.
The OnSite COVID-19 IgG/IgM Rapid Test has 97.1% sensitivity and 97.8% specificity, making it one of the most effective tests for detecting previous exposure to anti-SARS-CoV-2 virus.
After coronavirus infection it may take 10-14 days and up to 30 days for antibodies to be identified with this test.
Finger prick specimen allows testing at point-of-care, saving crucial time.
Complementary to PCR by detecting immune response
Reagents and Materials provided:
Individually sealed foil pouches containing:

One cassette device
One desiccant

Disposable capillary tubes, marked for 10 µL and 20 µL
Detection buffer (tris-based buffered solution with preservatives)
Instructions for Use
Materials Required but not provided:
Clock, watch or other timing device
Pipettor capable of delivering 10-20 μL of sample, that can be used instead of the disposable capillary tube for greater accuracy
Sterile lancets, sterile gauze and wipes for fingerstick whole blood specimens
Collection devices for venous whole blood, serum, plasma
Disposable gloves, biohazard disposal container
Manufactured by CTK Biotech.
Category Rapid Test Kits
* Based on residence in Ireland. Tax rates for other countries will be calculated at the checkout. Price exclusive of tax: €121.95.